Ever heard of Tbilisi? If you haven't, you're not alone.
It has been a while since I've written about – or indeed visited – any of Europe's lesser-known capital cities, (you may remember Skopje, Pristina, Chisinau – or perhaps Kyiv?)
For a long time, I've been curious about the Caucasian countries, Europe's final frontier, as it were. Last month, I decided to finally do something about it, and ended up happily tumbling about in two of them.
Here's a look at the capital of Georgia as seen through the lens of my iPhone.

View of Tbilisi from Narikala Fortress
Tbilisi – or თბილისი in Georgian – is more than 1 500 years old, and located on the ever-important trade routes between Asia and Europe. As you can see, it's set in a valley on either side of a river, the Mtkvari – or Kura – River.
I think the medieval Old Town is the most interesting part of Tbilisi: tumbling old buildings, crooked, wooden houses with carved balconies, old caravanserais (now often hostels), quirky little shops, narrow, cobbled, twisting and turning, calf-killingly steep hills.
At the bottom of the Old Town hills is busy Meidan Square, with several cafes, restaurants and bars. I loved sitting here at night, with Narikala Fortress looming above, all lit up at night – and deliciously spooky.

(As you can see, I've a thing or two to learn about nighttime iPhonography, but here it is all the same)
At the other end of the architectural spectrum is hyper-modern structures like the pedestrian Bridge of Peace, connecting the old town with the new…
… and a newly constructed theatre-showroom in Rike Park, just across the river from the old town.
Liberty Square (also called Freedom Square) is imposing, connecting six very busy streets. Don't even attempt to brave the traffic here – or anywhere in Tbilisi. There are underpasses for pedestrians, many of which are low-ceilinged, full of shops and with a slightly claustrophobic feel. But at least you'll live.
Liberty Square was formerly known as Lenin Square, and a large statue of the man used to adorn the plaza. At the demise of the Soviet Union in 1991 this was torn down, and later replaced by a tall column with a golden St George slaying the dragon.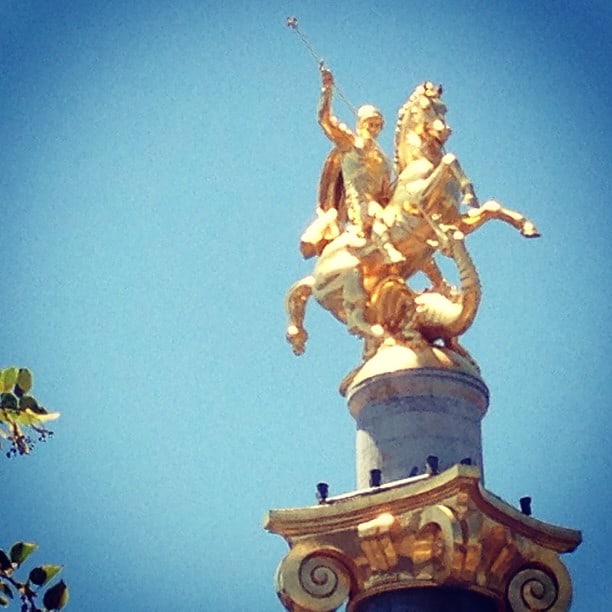 Rustaveli Avenue is one of the streets branching out from Liberty Square. Several museums, churches, theatres and government buildings are located on this thoroughfare, which means heaps of fab architecture. There's also cafes and shops, many brought out on the pavement in summer.
I liked rambling along tree-lined Rustaveli – lots to see, and just a nice place to walk, day or night.

Night time view of Liberty Square from Rustaveli Avenue
On Rustaveli you'll also find Prospero's Books and Caliban's Coffee House, Tbilisi's foreign-language book shop – a great place to plug-in and get some work done, if you're so inclined.
Georgian food – and wine – is excellent, and very inexpensive. These lovely apricots were for sale from the fruit and veg vendors at the bus station for next to nothing:

Of course, there's more to Georgia than Tbilisi. Sadly, my time in Georgia was limited, but I did manage to get to Mtskheta, the country's even older capital. More about that later here.