A sinister house in Torgau
The lovely 1000-year-old town, best known for being a major hotspot of the Protestant Reformation, has been venue of important historical events. Martin Luther stopped by 60 times. The people of Torgau were loyal followers, so he was preaching to the choir. The local Hartenfels castle church was the first protestant church in the world, consecrated by the reformer himself.
As I cross the bright, open square, walk past the pretty Renaissance town hall, the stunning monuments, and Katharina von Bora's home (the fascinating woman behind Luther), it's hard to imagine this picturesque town was also home to Geschlossener Jugendwerkhof Torgau – the special home/youth centre Torgau.
Troublesome teens
For 40 years, Torgau was behind the infamous Iron Curtain. The country was DDR – the German Democratic Republic, which, as we know, was anything but.
More than 4000 'difficult' teenagers were abused in East Germany's youth centres. The one in Torgau was the worst: the only one that was locked, meaning the inmates were essentially locked up. This was East Germany's central prison for teens. In operation from 1964 until the fall of the Berlin Wall in November 1989,  up to 40 boys and 20 girls lived here at one time, some as young as 14.
Escape wasn't an option. The centre was surrounded by 5-metre-high walls topped with barbed wire. Or broken glass. There were watchtowers and guard dogs.
And how were they difficult, these teens? They didn't conform – at least not willingly – to East German education, and they didn't fit in with the social image of the country. So they were sent here to be 're-educated', with whatever means the state deemed necessary.
…mit dem Ziel der Heranbildung vollwertiger Mitglieder der sozialistischen Gesellschaft und bewusster Bürger der Deutschen Demokratischen Republik
…with the goal of educating worthy members of the socialist society and informed citizens of the German Democratic Republic.
Other sins that warranted a send-off to Torgau included sexual urges and deviant behaviour, such as skipping school, attempting an illegal border crossing to the Republic (West Germany, the main enemy), and fascist provocation (defiling photos of prominent politicians and the like).
Living conditions in the centre were unbearable, with monotonous physical work, ideological training, deprivation, harassment and humiliation, physical violence and sexual abuse.
'Lesser' penalties were also applied, such as withdrawal of food, remaining in unnatural positions (sitting or standing still for hours), and 'self-education'; the educators tolerated and even encouraged abuse amongst inmates.
Bums were subjected to random police action. The bums – young people with long hair and Western clothing, such as jeans – frequently had their hair cut off by force.
Your hair had to go here as well, and everything else that made you an individual.
This was the entry process:
Stand still!
Take off your clothes – here!
Off with the hair!
Three days of solitary confinement!
Standing still: In the administration building, the newcomers have to wait standing to attention until the staff on duty have taken delivery of all documents and registered them as "new inmates"
Hair off! Hair is shaved off. Identical prison uniforms replace individual clothing styles and leave everyone looking the same. They are no longer the person who just arrived. Externally they have already changed a great deal.
"What broke me was having my hair cut off. When they used the scissors and then the razor, I knew that they would get me quiet."
"Then I came to a room where I was alone for 12 days."
Henriette B., 17 years old.
Solitary confinement was spent in this room. Surely even one hour would feel like an eternity.
A tragic consequence of this mistreatment was self-harm and many suicides. The last registered one here was 17-year-old Steve in April 1988, just 1.5 years before the fall of the Berlin Wall and the end of the DDR.
Steve B., 17 years old, hangs himself from the window of the cell with his shirt on 29th April 1988. He had been admitted just two days before. In his files, previous suicide attempts are noted. Neglect of duty on the part of educators is not established.
After this incident, the window handles are removed and a special confinement book is drawn up. Suicide attempts are not seen as signs of psychological crisis. The educators react simply by exercising greater control.
I was born a human being and I want to get out of here as a human being
Inside is the sad and thought-provoking exhibition I was born a human being and I want to get out of here as a human being. 
Walking slowly through the narrow, dimly lit corridors, I learn about life in the youth centre.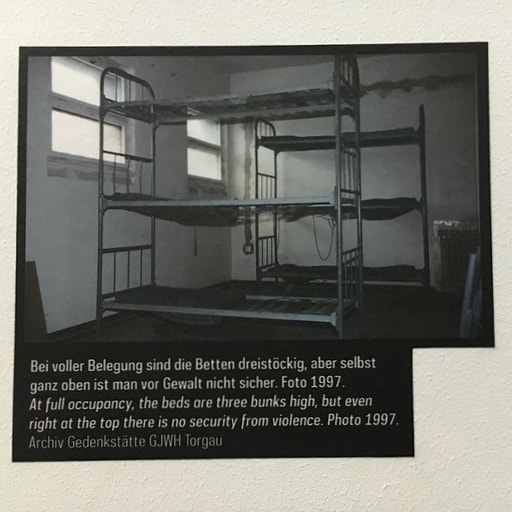 The top bunk would have been punishment in itself to me, even without the threat of violence.
No partition walls meant no privacy in the communal loos:
The bucket is filled with chlorine and used as a night-time loo. In the morning the hygiene functionary decides who gets the job of emptying the bucket in the yard.
There are special dark cells:
Through photos, audio and video recordings, we can get an idea of the mad thinking behind this idea of re-education.
More importantly, the victims have a voice.
Notice the clothes and hairstyles? I can't help but think that these kids were my contemporaries. Weren't it for the luck of birthplace, this could easily have been me, or my school friends. (Most likely me, as I tended to be the most contrary and defiant.)
The sins of three 16-year-olds
Karsten would not give up his plans to go to his biological father in West Germany. Did he stick it out until Reunification? I hope he did, that he met his father, and that he lived up to his son's expectations and hopes.
Sylvia incited 8 young people in the brigade to stop working. (Brigades were the smallest units or working groups that performed jobs in a production process in e.g. a company). Sylvia sounds like a natural leader to me. I wonder where she is today.
And Diana? She does not want to fit into the collective, she constantly threatens to kill herself and uses every opportunity to escape. I hope she got out and were given the help she needed.
Where does discipline end and corporal punishment/abuse begin?
"A smack never hurt anyone!"
<Rant> The idea that this was the norm 60 years ago, or even 40, in a dictatorship where people were ruled by fear is one thing. That some still think it's in any way acceptable to coerce, bully and intimidate children in the name of discipline or education is beyond belief. And that includes the 'smack that never hurt anyone'. We tell children to use their words, yet that same rule doesn't seem to apply to grown-ups. </Rant>
Most of this house of horrors has been torn down and replaced by apartments. But the administration building is a museum, a memorial to the teens who were abused. Many of the survivors still suffer from PTSD, more than 30 years after the work centre was closed.
Torgau practicals
Torgau is 2.5 hrs by car/train from Berlin. Stunning Dresden is 1.5 hrs away by car, a little longer by train. Leipzig is even closer: 1 hr by car, and 37 minutes by fast train. When you're in either of these cities, Torgau is a daytrip well worth your time.
Address, opening hours and information on the youth work centre at Gedenkstätte GJWH Torgau
Disclosure: In Torgau, I was a guest of VisitSaxony and the German Tourist Board. I have complete editorial control of content, as always here on Sophie's World.