Remember our little road trip across the Hardangervidda Plateau to see the new foot bridge across Vøringsfossen waterfall last summer? Well, Cat and I enjoyed the journey and the landscape so much, we decided to cross the plateau again. Returning from a quick visit to see apple trees in bloom along Hardangerfjord provided the perfect opportunity.
Flowering trees, however… that's another story.
Ah, the unpredictability of nature. Bit like us humans, really. Still pretty gorgeous, innit?
Norwegian Nature Centre Hardanger
But today, I want to share a different experience with you. About a nature centre – one which I must have passed many times over the years – without noticing it. It's just a little off to the side of the road, you see; you have to know about it.
But in the midst of this landscape…
… at the foot of Måbødalen Valley, just a few kilometres from Vøringsfossen waterfall, you'll find this striking building, housing an exciting learning experience.
Let's get on with it
We begin at the cinema, with a dazzling 5-screen, 225-degree panoramic film experience about Hardangervidda, just where we are, this very minute.
Ready to watch "Fjord Mountain Waterfall", directed by Ivo Caprino
There's music, of course, intense, romantic, chilling…
I'm a bird, weaving in and out between magnificent mountains and fathomless fjords, past wild waterfalls, pacific alpine lakes, ancient glaciers… and there are reindeer. Great herds of reindeer.
Notice how the panorama seemingly slants to the right? All that swooping can make you a bit dizzy.
Towards the end, we see a modern-day hunter, headed towards that herd, out for a kill. The film ends with a shot. I'll admit it, this bothers me; I find myself hoping he missed his mark.
The cruel bit. The not so nice interaction of nature and the human. There are of course different views on this – some would even argue that nature in itself is cruel.
Still… a gun. Seems unfair somehow.
In contrast, here's a reindeer hunter about 9000 years ago, just a few centuries after the last Ice Age.
To survive in the harsh landscape, the folks who first settled here up in the northern world utilised nature's resources through farming, hunting and fishing. They didn't have much choice.
Norwegian Nature Centre: Inspiring and engaging
After the film, we have three floors to explore. Three floors of travel, through 2.9 billion years.
The idea
To gather and share knowledge about how nature works, and how our human endeavours interact with it.
The method
As visitors, we become an integral, creative part of the experience, learning by using our senses: watching, listening, touching.
The goal
By knowing more about how nature and humanity can work together for our common good, we'll be inspired to protect the environment that surrounds us. Win-win!
The tech
I like the use of mod tech here, especially how it is available to many. The exhibits are presented in 3 languages: Norwegian, English and German. Then there are 10 other languages on tablets: Chinese, Dutch, French, Italian, Japanese, Korean, Polish, Portuguese, Russian and Spanish.
With innovative teaching technologies that are entertaining for the whole family, our goal is to make a visit to Norwegian Nature Centre Hardanger an exciting, fun, educational and unique experience for all ages!
Ice, ice baby
The earth has been through 40 – 50 ice ages during the last 2.6 million years. The last one ended 11 700 years ago. Let's step into it!
Listen to the sound of the glacier!
Did you hear the rumble?
Noisy tings, glaciers. They carry gravel and rocks along, small stones and huge boulders, carving out the landscape as they go. Nature's own engineers, responsible for creating our valleys and deep fjords. That has been going on for those 2.6 million years – and still is today.
Nature and humans: And, not vs.?
Notice how I'm not saying nature vs. humans in the heading here? We're not meant to be one against the other. We're a team. And, not vs.
But we don't always play by team rules, do we? Here's a well-known example:
When we burn oil, gas and coal, when we cut down forests, when we increase livestock farming, when we use nitrogen fertilisers – all at present levels – we add huge amounts of greenhouse gases into the atmosphere, trapping heat. Like a greenhouse.
During the last 20 years in particular, one of the most glaring results up here is shrinking glaciers. Warmer climate means the ice melts, and less snow builds up in winter. Also, as we remember from physics class, water expands as it becomes warmer. More water all round causes the sea levels to rise. Which is especially bad news for those who live less than 2 metres above sea level. And it's not only Tuvalu. Already, more than 20 million people are forced to leave their homes every year. 20 million climate refugees. Every year.
But that's not all. The glaciers also provides support for the bordering mountains. As the glacier shrinks, much of this support is removed, causing fractures in the mountain, making it less stable and prone to collapse. A recipe for disasters. Plural. And more people on the move as a result.
And we're responsible. Let there be no doubt about that.
Back at the nature centre, here's a more local example:
Once reindeer roamed freely across Norway's high plateaux and mountains. Now only a few mountains in southern Norway have herds of wild reindeer and their ability to roam is hampered by roads, dams and human disturbance.
Norwegian Nature Centre Hardanger
I like to think we can fix this. That's there's still time. And, not vs.
Nature inspiring art
Turning to a lighter subject, let's look at art. A separate little cinema shows how artists here have been inspired by these mountains, fjords and waterfalls for centuries. And no wonder!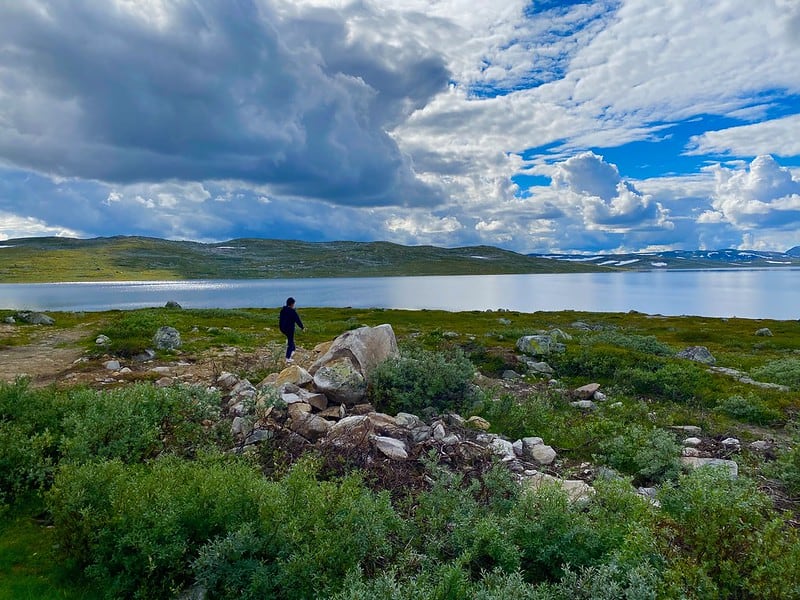 In need of artistic inspiration? Look no further.
Our Stone Age ancestors created art…
… and in more recent times, some of our most famous artists have done it their way. Here are works by Adolph Tidemand and Hans Gude.
Next to Munch's The Scream, the one in the middle here, is the most iconic Norwegian painting. Here is a close-up of Brudeferden i Hardanger (Bridal Procession on the Hardangerfjord):
Bit of romantic nationalism there
After science and art… food
Restaurant Hardangerviddahallen is across the road and serves locally sourced food. Reindeer is frequently on the menu, but not today. I have mountain trout, and my carnivorous daughter goes for a bacon burger. With extra bacon. We agree on one thing: ours is the most delicious! But since I'm in charge of this little thing…
Oh, all right then:
Even if, for some obscure reason, you're not interested in nature, science, art, learning – or you simply don't have enough time –  Hardangerviddahallen is a great choice for a break on the way between Oslo and Bergen. Also, there is a shop on-site selling Norwegian hiking gear. I bought a new raincoat, even though I have two already. But that dusty rose colour… so pretty, I just had to. Luckily, it rains quite a lot in these parts.
Rounding off with a few examples of local wildlife…
… and the aforementioned carnivore
Disclosure: Norwegian Nature Centre Hardanger invited us to come and explore. They even shouted our tasty grub. We are of course free to write anything we want. Or nothing at all. That's the way it has to be. As always, as ever.