It's early evening in the village surrounding Qal'at al-Bahrain. The creatively decorated houses remind me of pictures in fairy-tales, especially through the filter of the setting sun. Five horsemen appear out of the dusk in front of the silhouette of a large 16th century Portuguese fort. This is home to Iranians, says Aziz, my guide for the evening. This is a shia village.

Qal'at al-Bahrain
In the Kingdom of Bahrain and on UNESCOs World Heritage List since 2005, Qal'at al-Bahrain has been inhabited for 4 500 years – visible through 12 metres of layers. The tell (mound) has been partially excavated and various buildings have appeared: houses, shops, churches, military installations. This Arabian/Persian Gulf port city was capital of the Dilmun civilization, trading partner of ancient Mesopotamia.
On top of the tell is the Portuguese fort, the qala'a. As darkness descends, the old battlements seems a bit eerie. I edge towards the lit-up areas. Aziz used to work as a guard here at the fort. After locking the heavy wooden doors for the night, he was often the only one about. All night long. A veritable feasting ground for the imagination, I'm sure. Although he appears to be a very sensible, no nonsense guy.
There is a good museum on the site, which we barely make before closing time. After the slightly oppressive heat, it's pleasant to enter the cool stone building. Inside are artefacts from the various layers of human habitation.
An unusual practice in Dilmum was sacrificing snakes. In this area, snakes were associated with fertility, long life and divine protection. See the slightly blurred snake in the bowl below?
Bahrain National Museum
For an even closer look at Bahraini history, I'll warmly recommend Bahrain National Museum. Located in a large building by the waterfront, it's high-ceilinged, light and airy and has wonderful exhibits of daily life in Bahrain through the ages.
The dioramas are life-like with cheerful, colourfully dressed women and somewhat more serious-looking men. I enjoyed walking around and looking at a Bahraini wedding…
…and at scenes from the souk – the spice seller, the barber…
Bahrain has a long history of pearl fishing, well presented in the museum.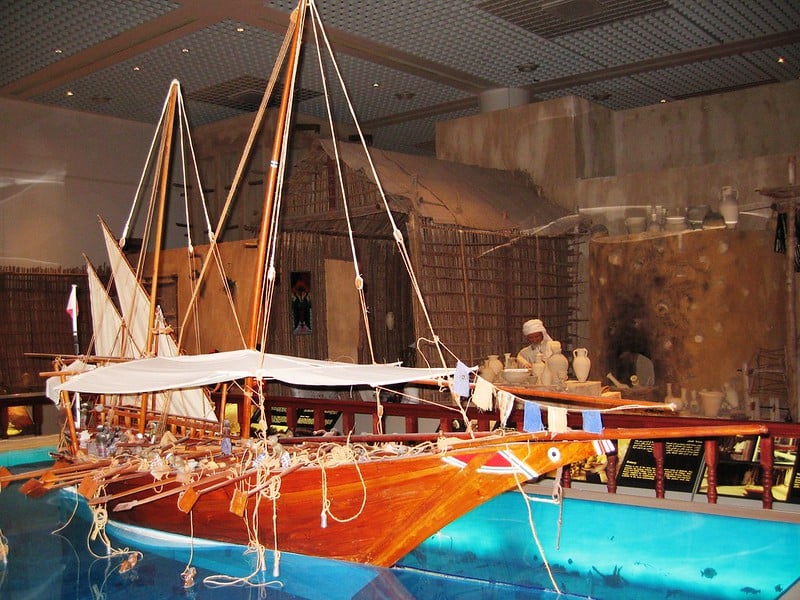 My youngest daughter is wary of dioramas, or of the 'false doll-people', as she calls them. They're too eerily life-like for her taste. I quite like them, they make a museum come alive.
What do you think?
Qal'at al-Bahrain – Ancient Harbour and Capital of Dilmun is UNESCO World Heritage site.
Here are more UNESCO World Heritage sites around the world.