30 kilometres from Rome, you'll find two villas. Two very different villas. In fact, the only thing they have in common is being on UNESCOs list of properties worthy of special protection for the future.
The bus from Rome (from the station Ponte Mammolo on Metro line B) takes me to Tivoli in the hills outside the great city. A resort town for millennia, Tivoli was then known as Tibur. I am here to have a look at the town's two World Heritage sites. Two!! For a town of less than 60 000 residents! Gotta hand it to Italy. Complete pros when it comes to the list.
Villa Adriana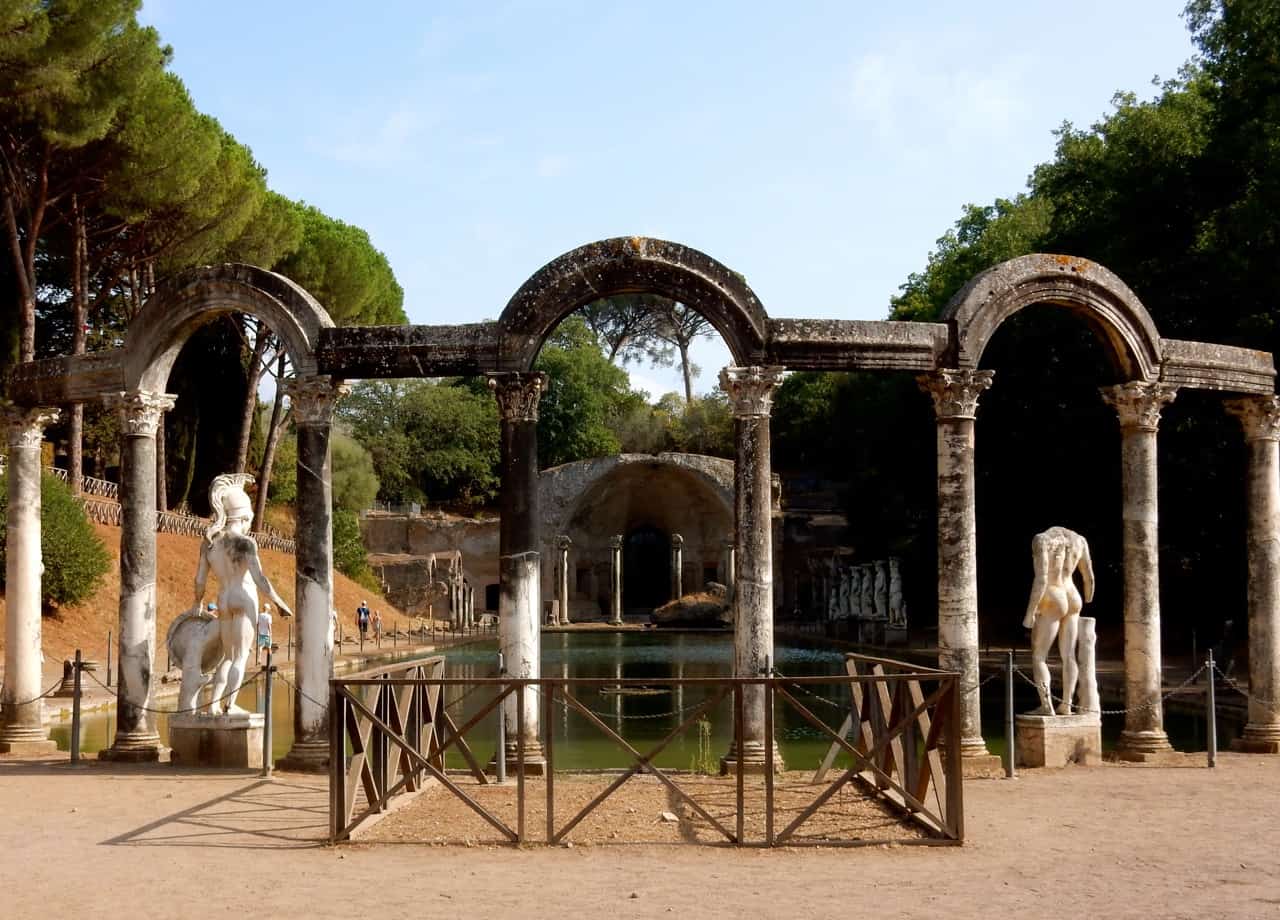 Perhaps you are familiar with Emperor Hadrian? He was a travelling man, a wall-building man (keeping those savage Scots out, remember…), and a man who enjoyed hanging out at his villa.
Hadrian was also one of the five good Roman emperors, according to Machiavelli. Now, Niccolo M. is not someone I would normally quote; he is a bit cold and calculating for my taste. But in this case, I find myself a little enchanted by his reasoning. His five good emperors, you see, had one thing in common: they were all adopted. Whenever an adopted emperor was in charge, Rome did well, reasons Niccolo Machiavelli. Conversely, when an heir by birth came to power, everything went pear-shaped. He justifies his view by pointing to these five good ones: Nerva, Trajan, Hadrian, Antonius Pius, and Marcus Aurelius. All adopted, all good for Rome. Intriguing thought, isn't it?
But Villa Adriana? Hadrian? What is the connection? Isn't Adriana a woman? Not in this case. In modern Italian, the Latin name Hadrian becomes Adriano. Furthermore, you conjugate the adjective. Villa is feminine. So Hadrian becomes feminine. His name, at least. Villa Adriana.
This ancient Roman villa is 5-6 km outside Tivoli, a couple of stops before the bus reaches the town centre. As he lets me off on Via Tiburtina, the main road, the driver tells me the villa is about 2 km away. Well, it feels longer. Much longer. The road is dusty, with hardly a shady spot. The sun is beating down upon my weary head. I have been up since 3am to catch a 6 o'clock flight, and as I didn't reckon with this trudge through the noonday sun, I have no water. My mood is not the best, you could say, when I finally reach the site. And when I learn there is a local Tivoli bus that pops back and forth (bus no 4, now you know) every 20 minutes or so, I put a curse on the unhelpful driver. But… have to look at bright side: I have gotten my daily exercise, and probably lost a kilo in the scorching heat. Never so wrong, as we say in Norwegian… it's never so wrong, it isn't good for something.
Today, Hadrian's retreat is ruins. An enormous property with ruins. Covering everything could easily take hours and hours. Hadrian had the villa built in the 2nd century. Greek and Egyptian art was the fashion of the day, and Hadrian the globetrotter put in Nile crocodiles (stone ones, fortunately), and sensuous Greek gods (also stone ones, unfortunately).
It's August, high tourist season. Yet, I share the extensive grounds with just a handful of visitors. And when I say extensive, I mean 120 hectares (that is almost 300 acres, American readers.) Hadrian required a whopping 900 servants to keep him happy here.
The site comprises a grand villa, thermal bathhouses, various temples, the Teatro Maritimo, and much more. The best bit is the Canopus, the gorgeous pool with the Nile crocodile and Greek warrior gods looking out on it. If I didn't have the pix in my phone to show for it, I may very well have put it down to delirium.
As can be expected, some of the finds from Hadrian's large compound here have found their way to the British Museum – rightfully or not, I shall not say (in this case, at least.)
Villa Adriana could benefit from better upkeep, but with a bit of imagination, you can still get a feel for how it might have looked some 1900 years ago. 2 leisurely hours is needed, maybe 3. I did not have a guide; having one would have been an advantage, as the place is a bit difficult to figure out.
You could bring some cured ham and cheeses, a bottle of wine, and have a picnic in the grounds. Some lovely spots here.
Entrance fee: € 8. Audio guides are available for € 5.
Villa d'Este
Back in the centre of Tivoli is Villa d'Este, an entirely different experience. Built in the 16th century by Cardinal Ippolito d'Este, son of the infamous Lucrezia Borgia, this villa's coolest (in every sense of the word) feature is the myriad of fountains, pools and jets. Running water, spouting water, it all creates a delicious mix of tranquility and sound chaos. But do not miss the inside (your ticket includes the gardens and the villa). Be aware that there are many steps and levels, both inside the villa and in the gardens, so another opportunity for a little cardio workout here.
You enter from Piazza Trento, next to Santa Maria-Maggiore church. From here, it looks relatively modest, just a doorway at the end of a house.
This wee doorway to the right here.
But once you step inside, all such thoughts evaporate. First, the views! My kingdom for such views, Ipolito must surely have thought. You can actually see Villa Adriana from here, and for miles and miles in many directions. All that's missing is the sea… lalalala…
Then there's beautifully decorated vaulted ceilings, entire walls decked with stunning friezes and frescoes, all Biblical and virtuous, of course. But also mythological creatures, water, nature. There's the Hall of Noah, the Hall of Moses, the Hall of Venus… a nice mix
In Italy, dogs are seemingly allowed anywhere. As I wander through the magnificent halls of this Renaissance villa, a local with a dog does the same. Then another. Then a couple of nuns.
Out in the gardens, I meet them again. Now, the nuns play around with selfie sticks and the dog is joyfully drinking water from the spouting breasts of a woman with horses' hooves, Pegasus' wings, and a dragon's tail. Fantastical!
But it's most of all the gardens and the water that is the centrepiece of this villa. 51 fountains, almost 800 spouts and jets, waterfalls, basins, canals, cascades… and no pumps, everything works entirely by gravity.
I especially enjoy walking along Cento Fontane, the 100 Fountains (closer to 300 spouts actually, on this path alone). Further down is Fontana dell'Organo, the Organ Fountains, where renaissance music is played 5 – 6 times each day.
From the outside, the villa itself looks a bit run down, but I think it adds to the charm here. It must be especially gorgeous with spring flowers in bloom.
Entrance fee: € 8. Guided tours of the gardens and the villa are available; audio guides cost € 4.
Villa Adriana and Villa d'Este are both UNESCO World Heritage sites.
Here are more heritage sites around the world.