It's time for another photo quiz, so without further ado – where in the world is this lovely bit of nature?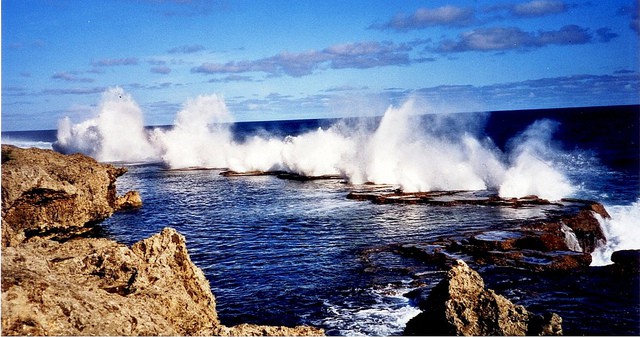 This spectacular natural phenomenon occurs along a 5-kilometre-stretch of coastline in this little country. There you are, walking along the beach, when suddenly a series of jets rises before you. Whoosh, whoosh, whoosh! Ocean water moves through tunnels in the coral reef, finally surging up and whistling as they go. At high tide, the cascades rise 30 metres into the air.
A winner will be selected among those who give the correct answer. They will be featured here on "Where in the world?" and on Sophie's World Facebook fan page with their name, blog, SoMe channel of choice and a short bio.
Moderation is switched on, so don't worry about giving away the answer if you know it. All comments will be published simultaneously on Saturday. Go on, have a guess!
Update 22 September: hint
The country was once famous for having the world's chubbiest head of state.
All is revealed
The answer to this little quiz is the Mapua 'a Vaea Blowholes on the island of Tongatapu in the Kingdom of Tonga. King Tāufaʻāhau Tupou IV, who died in 2006, had the somewhat dubious honour of being the world's heaviest monarch.
Quite a few knew or guessed Tonga, including Cole and Adela of Four Jandals, Sandra of 59 North and Lisa of Gone with the Family. Well done, everyone!
However, Mette of Italian Notes had the most correct answer and is this week's winner. Mette Vaabengaard is a Danish freelance journalist (MA) with a passion for Italy. She has travelled extensively throughout the country and acquired a piece of land with a slightly pink tuffi house, a trulli style potting shed and 23 olive trees around the point where Taranto, Brindisi and Lecce intersect in Puglia. Dividing time between work in Copenhagen and the house in Puglia, Mette still finds new places and aspects of Italy to explore. Follow her on twitter and have a look at Italian Notes on Facebook. CONGRATULATIONS, METTE.
Tongan blowholes