Wondering where to eat in hip, cool Brighton? Of course you do. Let's get right on it. (Click the name in the headings for a link to the properties).
Murmur: healthy, locally sourced delicacies
On Brighton's lively city beach, just metres away from the British Airways i360 experience, and the fab sculpture Phi, is this little casual, contemporary spot with cheerful yellow interior, serving local food in the perfect seafront location.
As I often do, I have an extra starter instead of a mains; it's just more manageable. Also, the starters here are so tempting. Here's my selection: fresh asparagus, sourced by South Brockwells, a local family farm, served with ricotta and a preserved lemon dressing. In the middle, lobster and fennel croquettes with a touch of charred lime mayo – very possibly the best croquettes I've ever tasted. And my default dessert whenever available: mango sticky rice. All accompanied by a lovely Verdeca from San Marzano in Puglia; with the slightest hint of vanilla flavour, it goes perfectly with all three dishes. Doesn't it look like liquid gold?
For the last 100 years, The Ivy has been an exclusive glam spot in Covent Garden. Today, it has spin-offs in 14 locations in London alone, plus another 20 or so spread around England, Ireland and Scotland, with more on the way. Turning it into a chain operation, albeit a gastro chain; that's quite the change of concept. Will it retain that gorgeous combination of excellent food and cool atmosphere? If the Brighton branch is anything to go by, it's a resounding yes from me.
The Ivy in the Lanes is located in an old post office, a grade II listed building. The flower wall greeting us at the entrance gives a taste of what's to come. I love all the colours and am partly sold already. Let's step inside.
Ever noticed English girls out for a night on the town? Slightly different from my 'just been wielding Kalashnikovs with Che'-look. Fortunately, they still let me in. Must have been those strips of lace above the pockets there.
But what about the food, you ask? Is that not, after all, the main purpose of visiting a restaurant?
Now, don't get me wrong; food is important. But let's appreciate the atmosphere first. The décor, the style; out of this world – and into the world of Babylon Berlin.
Sophisticated, decadent and with a dash of debauchery (think Josephine Baker) wandering through.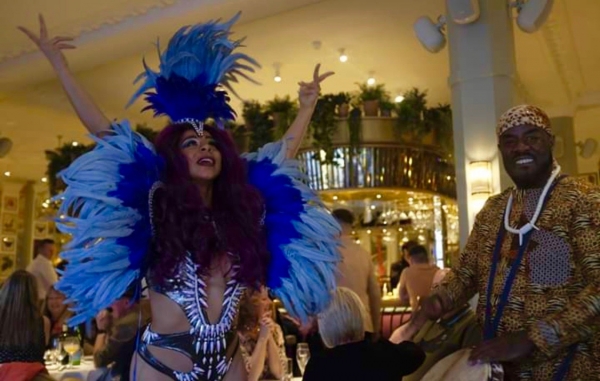 At the other end of the scale, the waiters' uniforms bring to mind (my mind, at least) the Soviet Union. Our Slovak Wunderfrau is knowledgeable, kind, and determined. Here she is about to set Ann-Mari's Pavilion Passion on fire.
I'm transported a century back, to Moka Efti in Weimar Era Berlin, expecting to hear Zu Asche, Zu Staub any moment. In fact, let's listen to it in the background while I tell you about the food. (Warning: you may want to join that 1920s line dance.)
Drinkies first. In fact, if you're in Brighton and wander along Ship Street in the charming Lanes – even if you're not hungry, do stop by The Ivy and sample some of the tasty aperitifs. I want to try them all, but a girl can only take so much booze before she begins to stumble (feet and/or words).
Here's my refreshing Copper Peach (vodka, Creme de Peche, Maraschino liqueur), Annette's dessert in a glass Salted Caramel Espresso Martini (vodka, coffee liqueur, espresso, salted caramel syrup), and Ann-Mari's shaken, not stirred Pavilion Passion, no doubt inspired by Brighton's fabulously eccentric Royal Pavilion (passionfruit, vodka and rum set on fire in the passion fruit shell)
Cheers! Skål!
(And let's add Prost! Because that touch of Berlin.)
OK, food at last. What you have been waiting for. Yes, you! You know who you are.
Here's the menu; just look at it, doesn't it want to make you order everything? Or jump into the painting Mary Poppins style? Or, if you're the sensible type: take that art class at long last?
While we browse the menu, we're given a few titbits to munch on: zucchini fritti, a silver bowl of truffle arancinis (in plain speak, that's rice balls with truffle cheese), and spiced green olives. See, here's the thing: I'm not a great fan or truffles. Or olives. And yet, these… yum!
Starters. You know I lik'em. I give you: one crispy duck salad, and one exquisite carpaccio of marinated yellowfin tuna with wasabi mayonnaise and chili – chock full of flavour. We approve!
Instead of another starter yet again, I choose blackened cod for mains, because it sounds delicious. And it is, baked in banana leaves, with soy and sesame and chili and fennel and whatnot. My table mate has lobster, and I try my fair share of that as well. Wish I could point out room for improvement in either one, but there just isn't any.
And then, sadly, it's time for dessert. Nothing against dessert, mind – but that means we're soon finished with this delicious-in-oh-so-many-ways place and I don't want to leave. Sadly also, because we can't come back. So little time, so many places to try.
Et voilà: le chocolate bombe and le apple tart flambé in Calvados, cause apparently, we like food that's set on fire and the like. The tart speaks for itself. The bombe split open when hot sauce is poured on it, a bit like nuclear fission.
If you're in Brighton during daytime only, there's breakfast and lunch on offer as well. All day eating. The Ivy in the Lanes is a must among Brighton eats. You heard it here first.
English's Seafood Restaurant and Oyster Bar: fresh seafood and calm
Another night in town, another great restaurant to try – and tonight, we're at English's. This Brighton institution has been run by the same family since 1945 and is located in a Victorian Era building. At English's, it's all about high quality fish and seafood.
It isn't an awkward date really! Just a lot to look at.
Great service, lovely location, peaceful atmosphere and all round delicious, flavourful food. We try lemon sole with parmesan potato puree, mussels, and tiger prawns with edamame – all get the thumbs up, though top marks go to the scallops. But then I am biased. Towards scallops.
Al Rouche: bliss on a budget
On our final night, we give Preston Street a try. This is Brighton's restaurant street, with several on either side of the hill. I've been raving about Lebanese food and it's about time the girls give it a try. Cause let's face it, it is simply the best cuisine in the world.
Al Rouche it is then, a small family run establishment. After a substantial afternoon tea (see below), we're not super hungry, so we decide to split a platter of meze and glasses of lovely mint tea along. Ridiculously inexpensive, and ridiculously tasty. Can't really go wrong with Lebanese.
Here's a little course in Lebanese meze for you:
tabouleh – lovely salad of parsley, onion, tomatoes, bulgur and mint (in the middle of the platter here)
fatayer – the little pies/turnovers at the sides, usually filled with cheese or meat or spinach
sambusak – the other little pies/turnovers at the sides of the platter
arayes – pita stuffed with spiced lamb, tomato and onion
kebbeh – 'meat balls' (on either side of the tabouleh). Bulgur, onion and lamb
hummus – chick pea/tahine (dip on the right) – and
moutabal – also known as baba ganoush, tahine/smoked or grilled aubergine (dip on the left).
Moutabal is in my top three favourite foods in the world. I could eat only that, dipping the thin flat soft bread in it all night long. I don't really like aubergines normally, so I marvel at how much I love this stuff. It's a bit like peanut butter. I hate that thick, sticky, practically undigestible stuff. Yet, I love satay sauce, made with – you guessed it – peanut butter. Go figure!
A platter of meze for two, more than enough for the three of us. There's even some moutabal left, even though I tried. I really did.
Breakfast in Brighton – on the hunt for poached eggs. And wifi.
I'm not a breakfast person, but the lengths I go to for you, dear reader…
While my co-conspirators are off visiting yet another vineyard, a hunt for breakfast is on for me. And it's nearly noon, so I can handle it. I prefer simple stuff, though; what I want is poached eggs and coffee. And wifi. That turns out to be a rather difficult combination to find. I'm finding plenty of the wifi/Tantric zen turmeric enlightened rhubarb kombucha combo (because Brighton). But oddly, most places that serve poached eggs (and admittedly, there are many), don't seem to have wifi. Something they announce rather proudly.
And I get it. Enjoy your food without the distractions of SoMe, etc. BUT – I have work to do, and simply must have wifi, on account of me clumsily leaving my mobile wifi in a taxi in Almaty some time ago (busy chatting with someone important, see). So, this morning in Brighton I end up in an Italian cafe, which does in fact have poached eggs and wifi. But as neither are very good, the name is forgotten before I walk out the door. Basta!
The Mad Hatter: poached eggs and curious quotes
Leaving it to my industrious connoisseur colleague, then. Ann-Mari never fails where food and wine are concerned. And sure enough, next morning she pulls The Mad Hatter out of her, erm, hat; a turquoise place on a street corner, just a few blocks from our accoms.
Not only do they have yummy poached eggs, and not only do they have wifi, and not only is it cosy, and not only do they have a Norwegian waiter, but the walls are decorated with delightful quotes from Alice. Wheeeeeee!
The Ivy serves breakfast, and that will no doubt be amazing. But, as you know, we're keen to try as many different places as possible, so the manager there generously suggests The Trading Post across the street. Funnily enough, so does our waiter at the Mad Hatter. Can't not go then, can we?
On our last morning, a sunny Sunday, we happily trudge along, wheelies trailing behind us.
Annette has investigated the Trading Post already and insists we sit upstairs, even if it means dragging our heavy suitcases (been bra shopping, see) up a million stairs. But worth it. Downstairs is packed this morning, and a long queue is forming at the counter.
Unusually, I'm not asked whether I want my eggs on white or brown bread. That's because the Trading Post uses sourdough bread, which is a bit clumsy/resistant to handle with a knife and fork, but delicious. Top marks for breakfast here as well. And for the excellent coffee.
PS: If you're interested in any other breakfast than poached eggs, I'm afraid I'm not your girl. However, if you read Norwegian (or you are happy just to look at mouthwatering pics), do have a look at Ann-Mari's or Annette's Brighton reviews.
The Grand hotel: afternoon tea with all the usual suspects n'more
We're in the homeland of afternoon teas, so afternoon tea it is. In Brighton, that must of course be partaken in the venerable old Grand Hotel. We go for Victoria Grand Afternoon Tea, i.e. the whole caboodle.
Starting with the savouries (cause we're not barbarians, are we), we have le petit sandwiches – poached salmon, egg mayonnaise, smoked ham, and cucumber with cream cheese – as well as a goat cheese, tomato and spinach quiche.
On to scones with strawberry jam and clotted cream. Which comes first, jam or cream? Opinions vary. Me, I don't care. Let's just eat it already.
On top there is a plate of petit fours: eclairs with hazelnut and white chocolate, lemon meringue tarts, a chocolate and coffee delice, and a little glass containing a single raspberry at the bottom of a layer of elderflower jelly. Finally, there's a generous slice of moist orange and polenta cake.
It goes without saying that this gluttony is just too much to handle, so the Grand cleverly offers a doggie bag, specially designed.
But, let's not leave the Grand just yet. All this sweetness needs to be balanced with some strong stuff. We must have gin. Award-winning Brighton Gin, of course. In proper G&T glasses, with a large stick of mint candy in. This, my friends, is a Brighton Gin Rocktail. So delicious, it's practically criminal. Dangerous stuff, you'll be under the table before you can say Brighton Rock – and that simply will not do at the Grand.
To your health!
And there you have it, folks. Get thee to Brighton right away. There's much to love! A post on things to see and do in and around town (that isn't food) is coming up. Watch this space!
Photos of burlesque dancer and attentive waiter at The Ivy: [email protected]AlltidReiseklar.no
Disclosure: I'm in Brighton as part of a collaborative campaign between Sparkling Happiness (my lovely blogger collective), Visit Britain Norway and Visit Brighton. As ever, I retain the right to write anything I want – or nothing at all; my bit of cyberspace, my rules.