– What are you doing the third Friday in January? Tom and Andrew asked. Or words to that effect.
– Eh… nothing special.
– We might squeeze in a flying visit to Oslo. Are you planning to be around, or might you be jet-setting somewhere?
Next to my kids, these two are my fave travel buddies. Kazakhstan, Kyrgyzstan, England, Azerbaijan, Georgia, Armenia. And now, Norway. In January! How's that for badass! And how's that for cool – in every sense of the word?
As luck has it, we're in for a snowy weekend, too. Proper winter in Oslo! Here's what we did with 24 hours in chilly, white Oslo:
Friday night
After a slight flight delay, we meet around 5pm, and hop on the tram to Frogner Park. Snowy weather and winter darkness means not many are out and about. Mostly, it's just us and the 212 robust, life-size nudes, all sculpted by Gustav Vigeland in the early parts of the 20th century. The sculptures cover the entire human spectrum: from embryo to old age.
This is probably Oslo's premier attraction. Turns out it looks cool in all kinds of weather and light conditions.
See the little one in the middle? That's the most famous sculpture in the park, Sinnataggen (meaning Angry Little Boy). You'll notice his shiny hand. That comes from tourists holding it when posing for pics. The shinier his hand, the more tempting to hold, it seems. But Sinnataggen has fared worse than a bit of discolouration. He has been dressed up; he has been painted red by rowdy high school seniors, and he has been stolen. Back in the 1990s, thieves sawed him off at the ankle, with only the foot remaining. He was eventually recovered in a rubbish tip, the poor little one.
Back on the tram, we head for Aker Brygge and wander around this renovated shipyard as snow falls; then across one of the little bridges to Oslo's newest neighbourhood, Tjuvholmen (the name means Thief Islet; a place of executions in the 18th century). From there, the National Theatre and main street Karl Johan, is a short, slightly slippery distance away. Oslo's city centre is quite compact and quite walkable.
Stortinget (Parliament) is a few hundred metres up the street, flanked by two lions (typical Norwegian wildlife – ha!)
Across the street is the venerable old Grand Hotel, temporary home to Nobel Peace Prize laureates, visiting VIPs, politicians, rock stars and the like. Reminiscent of the Grand Hotel in Birmingham, they note. And sure enough: both are built in the 1870s in French Renaissance style. And both are grand. Here it is in a different season. The ground isn't always white, see.
Back down Karl Johan, we walk past Gunnar Sønsteby, affectionately known as Kjakan, famous World War II resistance hero. The sculpture shows him as a young man with his bicycle, at the very spot he stood, watching the German army marching up main street, as they invaded Norway in April 1940.
The Royal Palace is pretty informal. You can wander up to it, lean on the wall and watch the guards changing. Or just hang about or traipse through the Palace Gardens, like Kate and Wills.
The brightly lit terrace is where the royal family stands for hours every 17 May, Constitution Day, waving to the parade filing past; Oslo's children, singing and waving flags.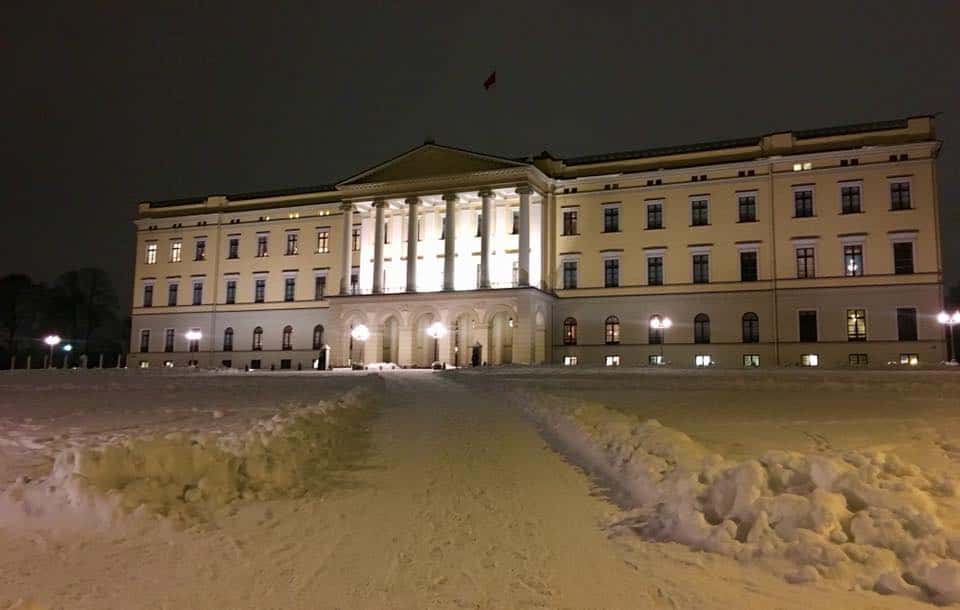 Flag's up. That means King Harald is in.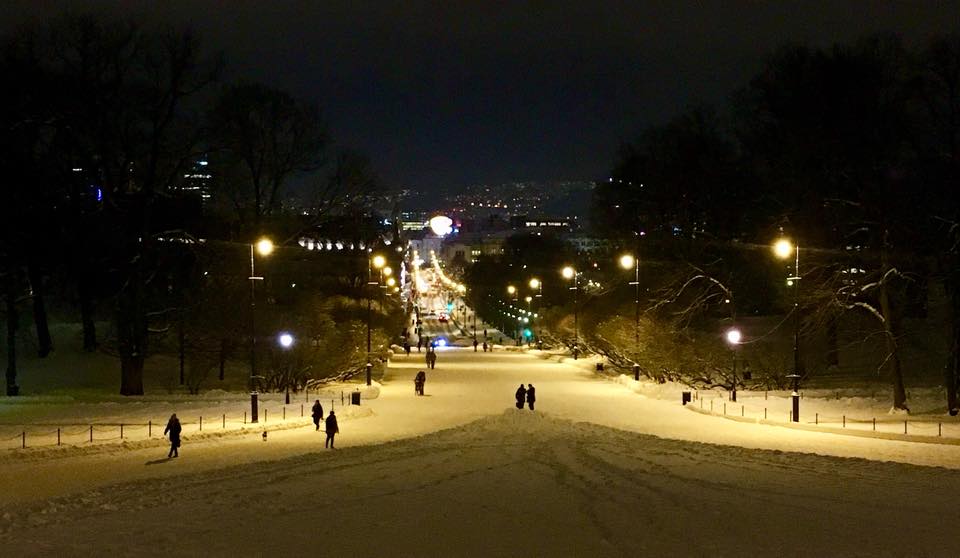 View from the palace looking out on Karl Johan street.
Magic Ice
I still haven't managed to get myself to an ice hotel. But the Magic Ice Bar is the next best thing: an art gallery and bar in one, with a permanent exhibition made of ice: sculptures and installations dramatically lit, with attention to detail – just begging to be touched. With gloves, mind! An icy blue world: uniquely atmospheric.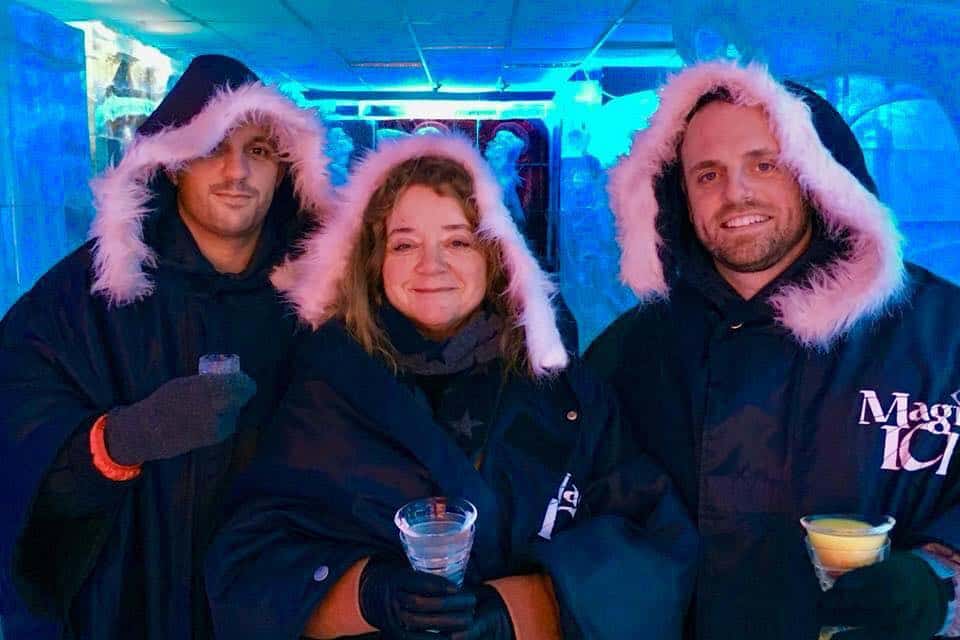 Just steps from the National Theatre, we arrive and are given warm ponchos to wear. Inside we see ice blue versions of the best known works of local artist Edvard Munch: Dance of Life, Madonna, Poverty, and of course Scream. We sit on ice benches and drink icy cold drinks from glasses made of ice. It's -7° C inside. A cool experience.
Saturday
Time for the actual Scream, easiest to see at the National Gallery (also just steps from the National Theatre). There are other wonderful works here as well, by Munch and others. So take your time, if you can. Sadly, we can't.
But here it is. In all its angst-ridden Weltschmerz.
Munch painted four versions, inspired by nature:
One evening I was walking along a path, the city was on one side and the fjord below. I felt tired and ill. I stopped and looked out over the fjord—the sun was setting, and the clouds turning blood red. I sensed a scream passing through nature; it seemed to me that I heard the scream. I painted this picture, painted the clouds as actual blood. The colour shrieked.
Just like Angry Little Boy, The Scream has been stolen. Several times, both this one in the National Gallery, and the other versions. In 2004, thieves waltzed into the Munch Museum, lifted The Scream and Madonna (the two most famous paintings) off the wall, and ambled out, during daylight. Two years later, they were recovered. These two works are now protected by glass.
Priorities, priorities, priorities
With just a few more hours, we need to prioritise strictly, and decide we must choose between the Nobel Peace Centre and City Hall, where the prize is awarded every 10 December.
City Hall it is, then. A rather photogenic building in itself, built between 1931 and 1950 (things took a bit longer back then, apparently) in the functionalist style of the times.
If you have watched the Peace Prize ceremony, you will have noticed the colourful wall art inside Oslo's city hall. If you're here before 4pm, just wander in and have a look at the lovely harbour views through the panorama windows – and the art work, depicting the period between the world wars, ever increasing city trade, and the rise of labour unions, still an important part of Norwegian society.
After a quick cup at Kaffebrenneriet (hands down the best coffee in Oslo, in my opinion), we cross to the grounds of medieval Akershus Fortress.
We're headed to building 62, the Resistance Museum, focusing on the Norwegian resistance movement during the Nazi occupation. Photos, newspapers, documents, equipment… such as these dentures: a creative method of transmitting radio signals. Necessity compels.
Continuing through the fortress grounds, we end up across the street from Oslo Opera House. But first, a floating sauna! Oslo Fjord Sauna is made of drift wood and has room for 10 people. A two-hour rental will set you back 600 kroner (approx. 55 GBP / 62 EUR / 78 USD), after which you might be ready to hop in the water.
From 2008, the opera house is still quite a young addition to Oslo's cityscape. Today, the white Carrera marble is covered in equally white snow, and we watch our step as we walk up and down the sloping roof. In front is She Lies, a permanent installation, 12 metres tall, by Monica Bonvicini.
 From the top, far-reaching city views in one direction, and fjord views in the other. Just across, people come out of the sauna and jump into the freezing fjord. For reals!
Before leaving town, we have time for a brief glance inside Oslo Domkirke (Cathedral), 15 minutes before it closes.
Outdoors
The final stop is the forest. Can't be in Oslo without experiencing the great outdoors. That is what this city is about, after all. We set out for Frognerseteren, a restaurant in the middle of the snowy woods, so it seems. And so it is. But also just 20 minutes away from the city centre by metro. On the way, we pass Holmenkollen Ski Jump. Norwegians are born with skies on their feet. So the saying goes.
Near Frognerseteren, you can rent sledges for some wintry fun in Korketrekkeren (meaning cork screw). The 2-km long run stretches down to Midtstuen, which means it is super easy to take the sledge on board the metro and go back up. Then go again. And again! Time constraints for us, so we opt for a quick coffee inside the cosy chalet instead – and post card writing.
Frognerseteren
Although Oslo is a small city, 24 hours doesn't even begin to cover it. There are Viking ships to be seen, the deck of the polar ship Fram to wander, the lively Grünerløkka neighbourhood to roam, and heaps more! But the guys have gotten a taste of Winter Oslo. Next is Summer Oslo, a different world;  in blue (fjord), green (grounds) and white (nights), and temps a perfect 20-25 °C.
iPhonography by Andrew Morland, Tom Brothwell and myself.
Disclosure: VisitOslo set us up with Oslo passes, ensuring public transport and entrance to museums and the like was covered during our 24 hours in town. Magic Ice Bar provided complimentary entrance tickets and welcome drinks. We're of course free to write whatever we choose here on Sophie's World, as always, as ever. Wouldn't make much sense otherwise.