If you enjoy visiting sites of outstanding universal value  – UNESCO World Heritage sites, that is – you will know that a few countries dominate the prestigious list by the sheer number of sites. Some would even say that some countries are over-represented, and that the value of some these sites is, well… not particularly outstanding. I'll not get into the politics of it, at least not in this post. Instead, I'd like to share a short World Heritage Germany itinerary: how you can see quite a few sites, even if your time is limited. And then, if a site catches your fancy you can always come back and stay a while.
Germany has played central role in world history for centuries, at least since Charlemagne. That, and given its size, it's only natural that Germany is home to a large number of sites, a whopping 39 of them, in fact – as well as one that has been delisted. I aim to see all 40, and am a little over halfway there. However, with work, family and whatnot, I can't often take off for weeks on end, so I have to space it out a bit – and focus on one area at a time.
A few months ago, I had a long weekend available for a bit of exploring. The German National Tourist Organisation and UNESCO Germany very kindly set me up with an itinerary covering 5 sites in the southwestern part of the country. By chance, I managed to get a quick glimpse at a sixth one as well.
If you have limited time, renting a car is the best option, and you'll have the additional pleasure of whizzing along the fabled Autobahn where there's no speed limit. What with driving distances and opening hours, you will want to plan your route in advance.
Although you can wander around some sites on your own at any time of the day, that's often a job half done. Then there's the question of guides at the sites. I can't stress enough the benefit of having one. A guide will tell you about the history and significance of a site, share interesting little anecdotes, show you the little gems you might otherwise miss, and – best of all – answer all your questions.
I won't go into detail about the individual sites here, as I've covered those quite extensively already, but I've included links to the various posts in the text below.
A 4-day World Heritage Germany itinerary
Day 1
I arrived at Frankfurt Airport (FRA) around lunchtime and picked up my car, an Opel Astra. (Sadly, Jürgen Klopp wasn't part of the package.) Do set aside enough time here: FRA is large and a bit unwieldy with lots of halls and corridors where it's easy to get lost (at least if you have a less than stellar sense of direction, like me). Plan on two hours after landing before you are on your way.
Site 1 – Maulbronn Monastery Complex
Maulbronn monastery is 140 km from FRA (about 1 hr 45 minutes driving time – more when rain is pouring and if you're not quite used to the Autobahn). I drove directly there, met my guide (booked in advance), and we covered most of the site in about 1.5 hours. As I really enjoyed this medieval monastery, I wandered around on my own for an additional hour or so, despite the rain.
Afterwards, I headed to the town of Speyer, where I meant to look around for a couple of hours before dinner.
Normally, the 65 km from Maulbronn to Speyer takes about an hour, but as the SatNav didn't have much better sense of direction than I have, I got seriously lost on some country roads and used twice as long. For a while, I kept ending up back in the same village over and over – all a bit Twilight Zone-y.
In Speyer, I checked into Hotel am Technik Museum Speyer (on the grounds of the Technical Museum) and ran to my dinner reservation at Ratskeller. I can highly recommend both.
Day 2
Site 2 – Speyer Cathedral
Next morning, I was up early to make up for lost time, and had a look at Speyer as the town woke up (love that), before meeting my guide at Speyer Cathedral. Seeing the cathedral properly took about 1.5 hours, including the Imperial Hall and the top of the tower. (Not to be missed.)
Site 3 – Abbey and Altemünster of Lorsch
Lunch was an apple and a nutrition bar on the run, before driving the 50 km to Lorsch Abbey (about 45 minutes – no getting lost this time, the Autobahn is my friend). I met the guide at the car park and spent about 2 hours with her, visiting the on-site museum and the mysterious Königshalle, and wandering the grounds.
Site 4 – the Messel Pit Fossil site
The Messel Pit is only 40 km from Lorsch (a little under 40 minutes, just whizzing away now).
If you want to enter the crater itself (and you really do), a guide is required. Again, the tour took about 2 hours. Bring good shoes.
The Messel Pit may at first seem unassuming – it's a pit, after all – yet it is totally mind-blowing and one of my favourite sites.
After closing time at the Messel Pit, I got back in the car and drove to Bingen (75 km, about 1 hour) and my accommodations for the night. The NH Bingen, although a somewhat nondescript chain hotel, was pleasant enough and perfectly located on the bank of the Rhine. I had reservations for dinner at Zollamt, also at the riverside, and recommend both.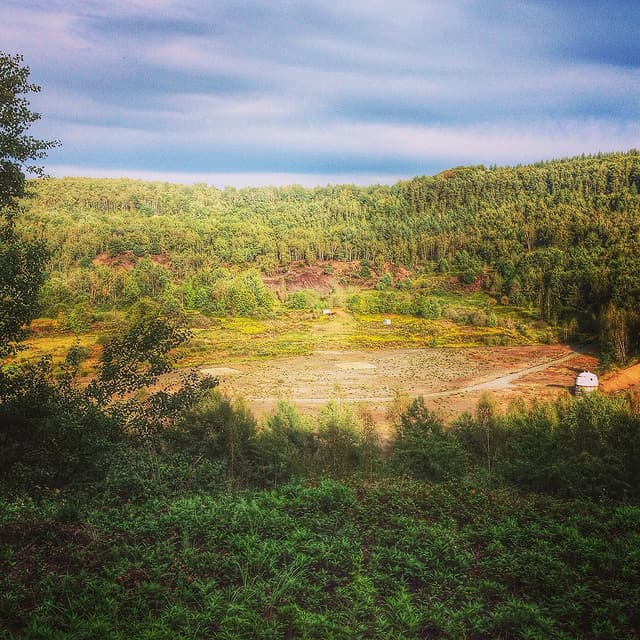 Whew, three sites in one day! That's something I wouldn't normally do. But these three sites in southwestern Germany are close to one another, so it wasn't at all exhausting. Besides, I meant to focus on just one for the next two days. That was the plan anyway.
Day 3
Site 5 – the Upper Middle Rhine Valley
Time to explore the romantic Rhine valley. After a quick pre-breakfast stroll around Bingen, home of the legendary 12th century Renaissance woman and polymath Hildegard von Bingen, I took off once again. Oberwesel was my first goal of the day, normally a half hour's drive from Bingen – along the same side of the river. Yet oddly, I ended up crossing the river twice. There's that sense of direction again. But looking on the bright side, it did give me an opportunity to try the car ferries that ply back and forth across the Rhine.
The guide brought me for a 2-hour browse around Oberwesel, including a fabulous walk on top of the ancient town wall. She pointed out all the fascinating little corners in this little riverside town and told me about the medieval fair. There's one here in Oberwesel every second year, a proper one. For the entire weekend everyone lives as in medieval times, at least outdoors. There's no electricity and no modern gadgets are allowed in town during the fair: no mobile phones, not even watches.
Afterwards, I continued driving along the same side of the Rhine and soon passed the fabled Loreley cliff. River boats floated by as I sat with a coffee outside the Weincafe Loreley, looking at the mythical cliff and thinking about all the ships that have run aground here through the centuries. Onwards to the town of Braubach (about one hour from Oberwesel), where I had a 4pm appointment to visit Marksburg. This stretch of the Rhine has more medieval castles than anywhere else in the world. Most have been destroyed (and rebuilt), but Marksburg was spared that fate, and is the only castle left as was.
Site 6 – Frontiers of the Roman Empire (a quick detour)
Along the way, I spotted several signs for The Limes Route, the ancient Roman frontier in Germany. Interesting! I decided to forgo lunch and search for the elusive Roman remains instead, and so I parked the car, walked into the forest and traipsed about for an hour. This is one site I feel I have just scratched the surface of, and that I will see more of later.
Back on track, crossing the Rhine (intentionally this time), I reached the little town of Boppard (about 45 minutes driving from Marksburg), where I had reservations at a little inn with the intriguing name Pension Bei Schindlerhannes und Julchen. (There's a whole Bonnie & Clyde story behind this name.) I had dinner at Karmeliterhof in Boppard, and, again, recommend both the restaurant and the accommodation.
Day 4
After an early morning look around Boppard, I set off for Koblenz (about a half hour drive), to see Stolzenfels Castle.
The weather was good (at last), so I really enjoyed the castle and the grounds, imagining what it must have been like to stay here at the top of the hill for days (or even weeks) on end, just lounging about, hanging with your friends, having tea in the garden and admiring the stunning view. Not bad, I decided. Not bad at all.
Sadly, my time had come to an end. After a final spin on the Autobahn, I returned the car at FRA (110 km from Koblenz, about 1.5 hours), before hopping on an evening flight home.
So there you have it: a long weekend well spent, packed with activities and experiences. Just right for a World Heritage geek. Here's my take on the relevant sites:
Disclosure: On this journey through German history, I was a guest of UNESCO Germany and the German National Tourist Organisation. Of course, anything I write is entirely up to me. Goes without saying, really.