Once, this house on Prinsengracht 263 was the offices of Otto Frank; later the secret home of the world's most famous diarist. For two frightening years of World War II, this was the secret address of Anne Frank.
Queuing outside, I try to imagine this street as it must have looked 70 years ago. The gabled canal houses are the same, as is the canal flowing by. Bicycles are still a major means of transportation in the Netherlands. These bicycles even look like they could have been in use in the 1940s.
Entering the Anne Frank House, I'm struck by the subdued atmosphere. I'm by no means alone, but voices are low; the mood is sombre, respectful. There's a ban on mobile phones and people seem to respect it.
Anne's words
Poignant excerpts from Anne's diary are written on the walls:
9 April 1944 – One day this terrible war will be over. The time will come when we will be people again, and not just Jews. We can never be just Dutch, or just English or whatever; we will always be Jews as well. But then, we'll want to be!
Others chillingly hint at the atmosphere in the house:
11 June 1942 – We will have to whisper and tread lightly during the day; otherwise the people in the warehouse might hear us.

11 July 1942 – We're very afraid the neighbours might hear or see us.
The helpers
From what was the original house entrance, I walk up a steep and narrow stairway, typical of Dutch canal houses. On top of the stairs is a door with a glass window marked Kantoor, office. Notes here concern the helpers.
22 January 1944 – Mr Kugler brings me "Cinema and Theatre" every week.
The helpers, risking their own life, were Otto Frank's employees: Miep Gies, Bep Voskuijl, Victor Kugler and Jo Kleiman.
26 May 1944 – Kugler, who at times finds the enormous responsibility for the eight of us overwhelming, can hardly talk from the pent-up tension and strain.
In the front office, an interview with Miep Gies is running continuously. Miep's typewriter is displayed in a glass case.
This is how Anne and her sister Margot used this room:
29 September 1942 – Margot and I have declared the front office to be our bathing grounds. Since the curtains are drawn on Saturday afternoon, we scrub ourselves in the dark, while the one who isn't in the bath looks out the windows through a chink in the curtains.
Peeking out through that same window, through a chink in the curtains, I get a glimpse of a young couple on a green bench; the dark waters of the canal flowing past. It's a frisky March day and the girl's long hair is blowing in the wind. Anne must have looked out the windows on spring days like this, probably wishing she could feel the breeze in her dark locks.

Amsterdam canal on a windy March day
Other scenes from the window must have been horrifying:
19 November 1942 – Countless friends and acquaintances have been taken off to a dreadful fate. Night after night, green and grey military vehicles cruise the streets. It's impossible to escape their clutches unless you go into hiding.

12 December 1942 – I saw two Jews through the curtains yesterday, it was a horrible feeling, just as if I had betrayed them and was now watching them in their misery.
The higher up you ascend Amsterdam canal houses, the steeper and narrower the stairs. I climb the long, "leg-breaking" stairway. On top, I'm met by a display of yellow cloth stars with the word Jood written on them. As of 3 May 1942, Jews were required to wear these.
20 June 1942 – After May 1940 good times rapidly fled: first the war, then the capitulation, followed by the German invasion which is when the sufferings of us Jews really began. Jews must bear a yellow star, Jews must hand in their bicycles, and Jews are banned from street cars. Jews may not visit Christians; Jews must go to Jewish schools and many more restrictions of a similar kind.
Also displayed is a formal letter titled oproeping! – a call-up notice for a work project in Germany. Margot's oproeping was the immediate cause for the Frank family to go into hiding in the first place. The next room is simply decorated with black and white photos of the eight.
The eight people in hiding
Auguste van Pels-Röttgen, born 29 September 1900 in Buer, Germany.
Hermann van Pels, born 31 March 1898 in Gehrde, Germany.
Peter van Pels, born 8 November 1926 in Osnabrück, Germany.
Fritz Pfeffer, born 30 April 1889 in Giessen, Germany.
Otto Frank, born 12 May 1889 in Frankfurt-am-Main, Germany
Edith Frank-Holländer, born 16 January 1900 in Aachen, Germany
Margot Frank, born 1 February 1926 in Frankfurt-am-Main, Germany
Anne Frank, born 12 June 1929 in Frankfurt-am-Main, Germany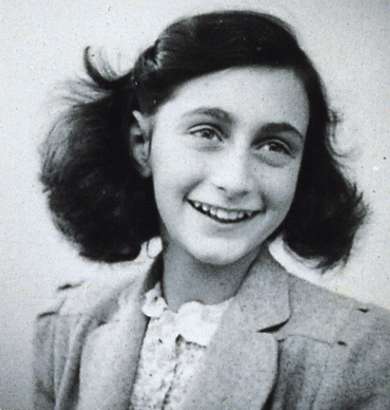 Living in eternal dusk
During the war, black-out curtains covered all the windows. The families could not go outside and the curtains could not be opened during the day. Fresh air was available through a small window in the attic; dark, damp, inhabited by rats.
Today, the house is dimly lit, possibly to simulate reality back then. This lack of daylight, any light, leaves me feeling annoyed, angry even.
When two kids accidentally tear down a window-cover, I'm immediately filled with a great sense of relief at the unexpected light and breeze coming through. The church bells are louder and clearer; it's easier to breathe. I can't begin to imagine what it must have been like, living in this eternal dusk – day in, day out; in constant fear of discovery.
The frustration is palpable in this quote from Anne Frank in a film excerpt:
I wander from room to room, down the stairs and up again. A voice in me screams: Go out, breathe air, have fun.
After a while, security measures for the families in hiding had to be increased.
21 August 1942 – Now our secret annex has truly become secret. Mr. Kugler thought is would be better to have a bookcase built in front of the entrance to our hiding place. Now whenever we want to go downstairs we have to duck and then jump.
In the evenings, the two families in hiding use this staircase to sneak downstairs. During the day, the helpers use the stairs to get to the secret annex.
Above the movable bookcase, I spot a map of Belgium. The shelves contain binders marked Verzekering (insurance), Onbetaalde Rekeningen (unpaid bills), Contracten (contracts), Reclame material (Advertising). It all looks matter-of-fact, businesslike – in a time-warped sort of way. I sneeze. The room smells dusty, of old papers and books.
In the bedroom 17-year-old Margot shared with her parents, her sister Anne noted this:
17 November 1943 – Mother reads a prayer book – Father reads Dickens with a dictionary, of course – on the edge of the sagging bed.- Margot sends her Latin lessons to a teacher, who corrects them and then returns them. I bet he's glad to have such a smart student.

2 May 1943 – Margot and Mother have shared the same three undershirts the entire winter.
Next is the bedroom Anne shared with the middle-aged Mr. Pfeffer.
As we walk through the room, the atmosphere changes ever so slightly. The visitors are quiet; even three teenage boys who have been joking and laughing a bit, stop talking now. Anne's room, sacred almost, to those who have read this young girl's diary. The room is decorated with pictures and newspaper cuttings of the stars and heroes of the day. This could just as well have been my mother's bedroom wall in 1943.
We all gaze silently at pictures of the princesses Elizabeth and Margaret, Ginger Rogers, Sonia Henie, Greta Garbo in Ninotchka. ..
Washroom:
3 August 1943 – Shh… Father, be quiet, Otto.

At the strike of half past eight, Father has to be in the living room. No running water, no flushing toilet, no walking around, no noise whatsoever.
It's half past two. As I enter the sitting room, the neighbouring Westerkerk begins to play. Anne talks about Westerkerk in her diary – how hearing the bells gives her hope.
The sitting room also served as a bedroom for Mr and Mrs Pels. It contains the remnants of an old iron stove, a cupboard where a draft comes through and an open wardrobe with two shelves and a hanging rod. Through the blacked-out windows, I see vague silhouettes of trees and neighbouring canal houses. Humourously, Anne observes:
10 December 1942 – Mrs van Pels was trying to do everything at once, learning Dutch out of a book, stirring the soup, watching the meat, sighing and moaning about her broken rib.
Betrayed – unknown by whom
Next are these chilling words:
4 Aug 1944 – found!

Betrayed – unknown by whom. Bookcase torn apart and secret entrance discovered.
Friday 4 August 1944 was a day like any other for the people in hiding. Otto Frank writes:
It was about ten-thirty. I was upstairs with the Van Pelses in Peter's room and I was helping him with his schoolwork. I was showing him the mistake in the dictation when suddenly someone came running up the stairs. The stairs were squeaking, I stood up, because it was still early in the morning and everyone was supposed to be quiet – then the door opened and a man was standing right in front of us with a gun in his hand and it was pointed at us." SS-officer Karl Silberbauer, assisted by 3 Dutch SD officers supervised the arrest.
In the final room, I'm greeted by blurry photos and a sobering death list. Faded index cards coldly describe the details.
Van Pels, Auschwitz mid-1944
Pfeffer, Neuengamme, Dec 1944
Edith, Auschwitz, 6 January 1945
Margot, Bergen Belsen, March 1945
Anne, Bergen Belsen, March 1945
Auguste, Theresienstadt, April/May 1945
Peter, Mauthausen 5 May 1945
Otto, Auschwitz, survived
In the words of Hanneli Goslar, a former neighbour, who met Anne in Bergen Belsen: April 1945 – Anne died only one month before liberation – alone, having no one (she thought, after her sister died).  

Mari Andriessen's statue of Anne Frank outside Westerkerk
Anne's own words seems a fitting end:
25 March 1944 – Liebe Kitty, I want to be useful and bring enjoyment to all people. And therefore I am so grateful to God for giving me this gift of writing, of expressing all that is in me.
Emotionally draining though it is, the Anne Frank House is one of my favourite museums. It's so simple, yet so powerfully presented – and so real.
What is the memorable museum you have visited?
This article was originally published on Boots'n'All – now slightly altered. Photo of Anne Frank is by wikilivres.info. All other photos by yours truly.