33 million years ago, Sardinia and Corsica got unstuck. Sardinia is now approaching Italy. Meanwhile, the two islands still have common features. The dialect spoken in Sardinia's northern region Gallura, is similar to the one in southern Corsica. Bonifacio is now the only Italian town left in Corsica. It's a beautiful town with heaps to see and do.
Corsicans aren't very friendly, I'd been warned. Not very welcoming. I ask Marco, our Sardinian guide, and by now, friend about this. "They say people don't smile as much in Corsica," he replies. "I don't know. Some people smile. Some do not. Like everywhere else." Then he continues, mischievously: "Of course, in Sardinia, people smile all the time. Even while robbing you. There you are, talking with smiling people and all of a sudden you're wondering: Where's my purse?" Seems Sardinians have self-irony.
Here are a few things to do in Bonifacio
Approaching the town from the sea is wonderful:
Bonifacio comprises porte and haute ville. A little train whisks you between the two for 5 Euros, commentary included going up. Commentary in French and Italian, that is. Natural enough, I think. But an English woman is very displeased indeed. "What? No English? Really!"
I'm secretly amused.
Porte is interesting enough; heaps of shops and cafés along the waterfront. Many of them look very inviting; great venues for people-watching on this busy day. But do go up to haute ville with its steep, narrow roads. Though stairs is a better word. Stairs with deep steps. Still, cars are allowed, driving up and down the stairs.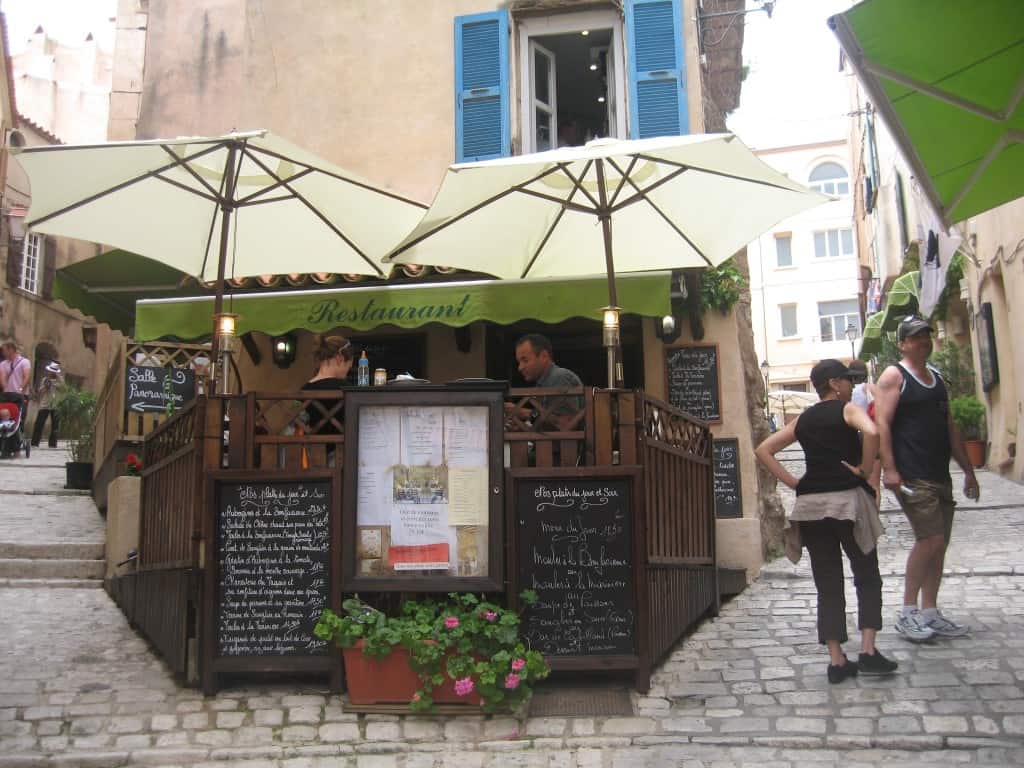 Walking around the back alleys (or back stairs, rather) of haute ville, we stumble upon interesting sights everywhere. Laundry drying, grannies knitting and chatting, old men playing chess, all very Italian. And the view… well, have a look: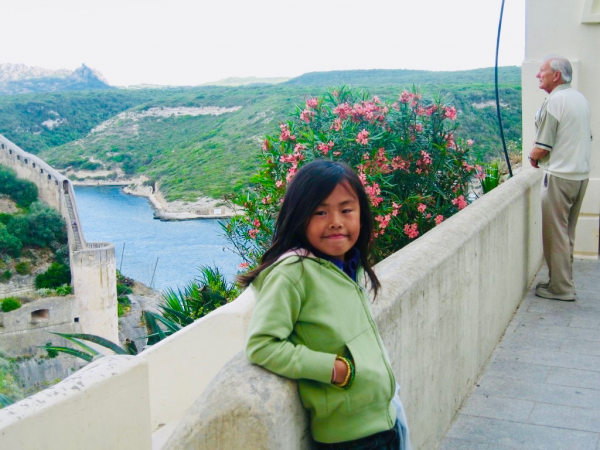 Haute ville also has its touristic trade: t-shirts, bath towels, jewellery, post cards; the usual suspects are peddled within its ancient walls. My daughter takes a liking to corky souvenirs. We end up with a cork note book, a cork map of Corsica and several cork post cards. They seem fragile; I doubt they will remain intact through Europe's postal system.
Again, I wonder what it's like here out of season. Completely void of life? Like Sardinia, Corsica warrants a closer examination. On horse, by foot, bicycle or by car. It seems I just have to return. Some January.