As I write this, I'm sat in my favourite cafe in Rauma, for the third time in two days. I'm in Finland to have a look at some of the country's world heritage sites. As you know, I'm on a quest to see many of them, perhaps even all, and I'm really enjoying this self-imposed little challenge. I'm discovering places I might otherwise not have thought of visiting, or even heard of. This week's discovery was exceptionally pleasant.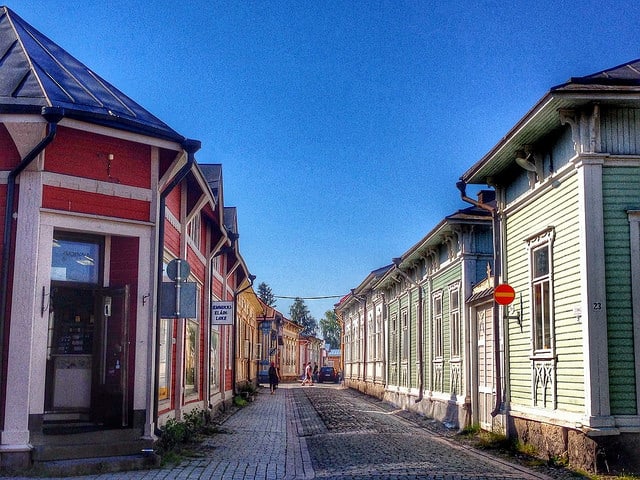 Less than 3 hours from Helsinki you'll find Rauma, with two very different sites just 18 kilometres apart. One is the vibrant old town itself, Vanha Rauma. The other is the archaeological site of Sammallahdenmäki.
Old Rauma
Vanha Rauma is one of Finland's oldest harbours and has received its heritage status because of its fine examples of traditional wooden, urban architecture.
The town was built around a monastery, presently the Church of the Holy Cross, inaugurated in 1512. It's a lovely church, especially the vault paintings. As I enter a group of young teens are rehearsing for their upcoming confirmation. I sit down to watch for a few minutes, next to a grey-haired lady. As I turn to smile at her… she doesn't smile back. This elderly lady, it turns out, is made of painted bronze; by Finnish sculptor Kerttu Horila. Always someone in church here.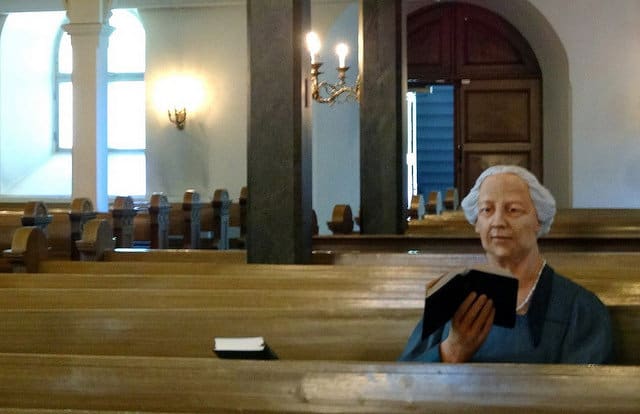 Strolling around town, I discover another of her sculptures: Rauma Girl sits on a bench at Hauenguano Square, with her handbag casually thrown down beside her.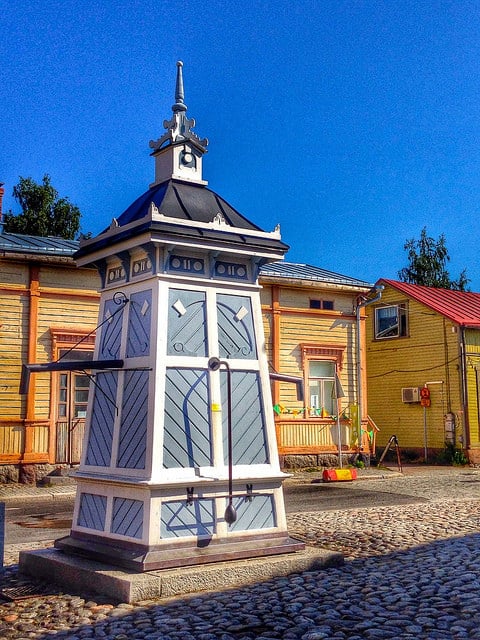 Old Rauma is filled with narrow cobbled streets and colourful wooden houses. At first, you might think you've wandered onto a film set, but no. This is a living, breathing neighbourhood – with small shops, cafes, art galleries, homes. A peek inside many of the ornate, tall wooden gates, reveal impromptu yard sales.
I have happened upon Rauma at an interesting time. Lace-making has been a local handicraft since the mid-1700s, and during the last week of July, the town celebrates Lace Week with music and festivities. Street vendors from all over have descended upon this little town, with cheeses from Holland, gelato from Italy, pastries and nuts from Morocco, fudge from Great Britain…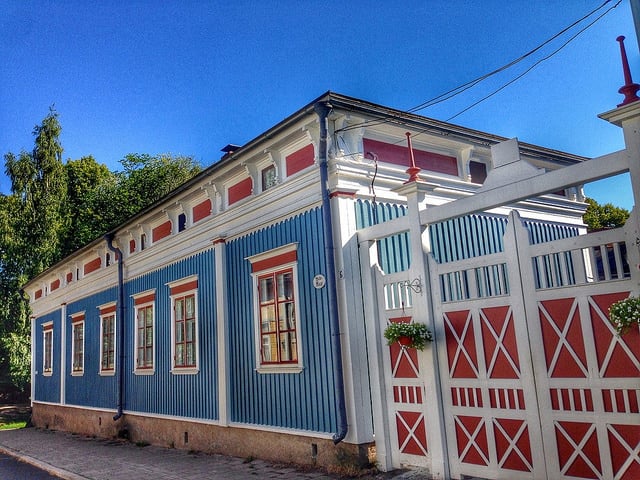 Old Town Hall on Market Square
On Market Square, I immediately find the perfectly placed Café Sali. There's sun, but the other buildings provide enough shade to make the light perfect for writing. As it happens, it also offers wonderfully creative sandwiches and large salads made according to your specifications.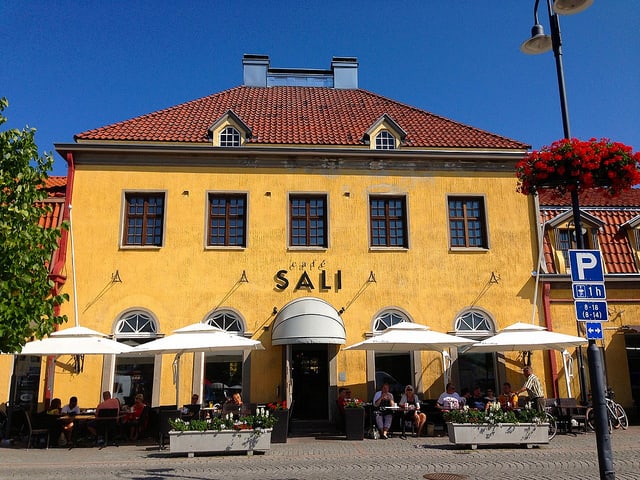 Having wandered around Rauma for a few hours, it's time to see the burial cairns at Sammallahdenmäki.
Bronze Age Burial Site of Sammallahdenmäki
After following the main road for about 10 kilometres, I take a left towards Murtamo. The rest of the way, I seem to be the only one around. I drive past what appears to be closed mills and abandoned houses, possibly summer houses, empty this Thursday afternoon. I cross a wooden bridge that creaks ominously.
Finally, the familiar World Heritage symbol appears on a road sign. After a kilometer or so on a gravel road, there's a car park, or more a clearing, really. My little hired Citroën is the only car here. And I'm the only human. It's a bit eerie, yet thrilling.
I begin walking down a path, then around a corner and along, all the while surrounded by tall firs. This looks like the area surrounding our cabin at home, a place I've wandered innumerable times since I was, quite literally, a babe in the woods, frequently with no one else in sight. Yet the forest feels different here, a bit spooky. Just me, a few birds, and an unseen moose or two. And perhaps an unseen axe murderer…
Must be one too many Finnish television dramas during my impressionable youth. (Finnish TV-dramas was a Tuesday night staple in Norway in the 70s and 80s, often about big, silent men carrying axes, shotguns and vodka and naked people running around in the woods.)
But all that is forgotten as soon as I spot the first cairn. There are more than 30 of these boulder heaps. Big and small. Organised and disorganised. Piles of rocks, really. But piles of rocks more than 3000 years old. Burial cairns from the Bronze Age. Not much else is known about them.
For a good half hour I wander. And wonder. The cairn builders, how did they communicate? How was their language? What were they wearing on hot summer days like today? Even at 5pm it's a good 30 degrees. Must have been more pleasant then; with a sea breeze, perhaps. 3000 years ago, Sammallahdenmäki was on the coast. Over time, the land has risen. This remote forest is now 15 kilometers inland.
The site is associated with sun worship. How did that manifest itself? Were there rituals? There must have been, I suppose. Prayers? Chants?
Back in the present, I'm once again struck by the quiet. Not even a bird is chirping. In the distance, my little Citroën looks conspicuous parked on a stone slab, as if it doesn't belong. I feel I'm trespassing in this ancient forest.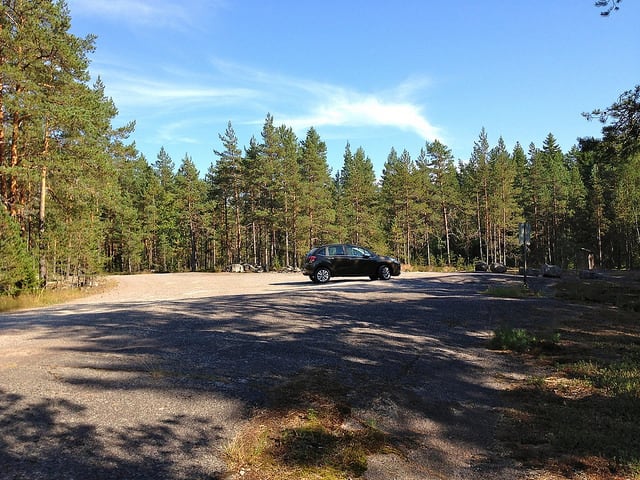 As soon as I'm on the paved road again, a mum and five children cycle past. One of the seemingly abandoned houses now has smoke rising from the chimney (one wonders why, in this heat). Two horses and a sheep graze peacefully in a paddock, barely bothering to look at me when I stop. A few country boys, their feet firmly on the gas pedals, speed past. The wooden bridge creaks once again, but I make it across.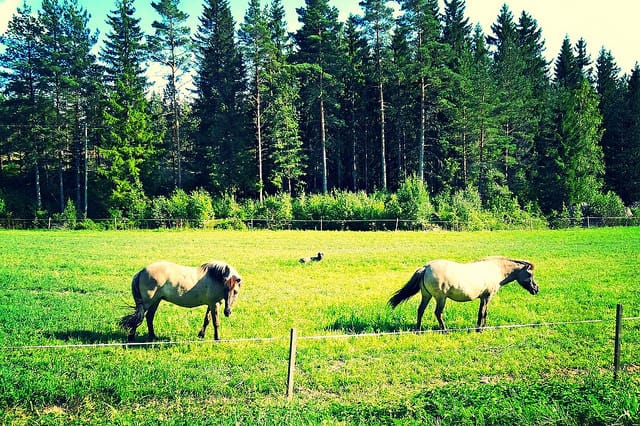 Back in Old Rauma
In the evening, I return to Cafe Sali. They don't serve dinner, so tonight's feast comprises a veggie wrap and iced coffee. While I scribble, I look out on the marketplace. Tents and stands are closed for the night. People drink beers at the pubs lining the square, but they're relatively quiet.
As the sun sets – which, during the Nordic summer, means around 11pm – I take another stroll. It's very atmospheric here along the cobbled streets and alleys. The ancient wooden houses – pleasant pastels, cobalts, cherry reds, mossy greens, deep ochres, so bright in the summer sunshine, are more subdued now, more magical.
A woman on a bicycle whizzes past. Two boys, also on bicycles, laugh and chase each other. I walk down another lane, and yet another. All is silent now. I can't help but think this would make a fab setting for a crime story – Nordic noir. Has anyone written a thriller set in Old Rauma? If not, I'm throwing the idea out there. I'd do it myself, if only the day had 36 hours.
Old Rauma and the Bronze Age Burial Site of Sammallahdenmäki are UNESCO World Heritage sites.
Here are more UNESCO World Heritage sites around the world.
Disclosure? Nope, nothing sponsored here. Not even Cafe Sali; I just really liked it.