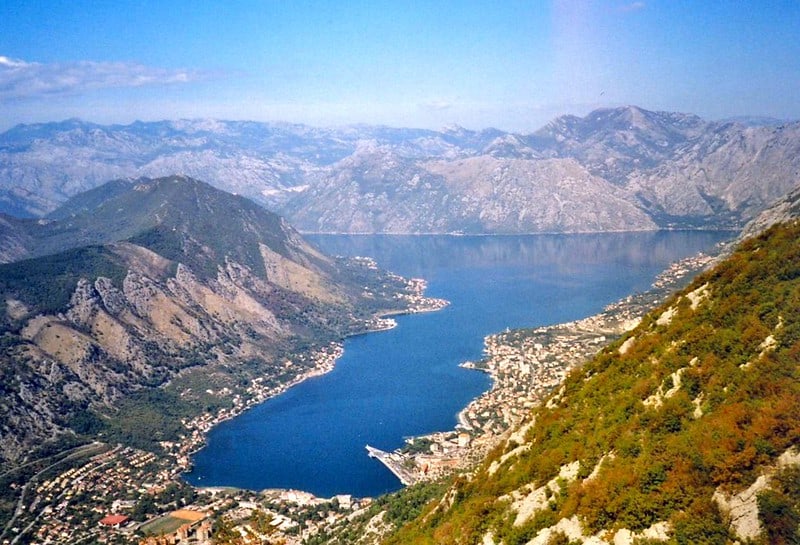 On our way from Dubrovnik to Cetinje, the old royal capital of Montenegro, we passed through a pretty town surrounded by an even prettier bay. So fetching was this stretch of coastline, we hopped off for a closer look: this was Kotor Bay.
The town of Kotor has been settled since ancient times, as part of the Roman province Dalmatia. The wonderful walled city that is there today, has been under Venetian, Italian and Austro-Hungarian rule. In a more recent past, this was a favourite holiday spot in Yugoslavia. Following the break-up of the Yugoslav federation, it was part of a country known for a short while as Serbia and Montenegro. A further separation in 2006 made Montenegro an independent country and the second youngest UN member state.
Wandering within the fortified walls, we discovered a small medieval city packed with wonderful surprises around every corner: an intriguing little church here, a small square there, a quirky cafe over there… In fact, we felt we might have been transported to a little Venetian corner of the world. No wonder: the Republic of Venice ruled this area for nearly 400 years and clearly left its mark on the town's architecture. As a bonus for those of us who enjoy visiting world heritage sites, these defensive works from the 16th – 17th centuries, necessary to support the authority of that expansive Venetian republic, were inscribed on UNESCO's list in 2017 as a transnational site covering properties in Croatia, Italy and Montenegro. This comes in addition to the natural/culturo-historical region.
Immediately outside the walls is the glittering waters of the Bay of Kotor with yachts moored at the jetties. Lofty mountains reach almost all the way down to the beaches filled with sun-worshippers. Most are from Montenegro and neighbouring Balkan countries. Although, our visit was a few years ago. Since then, cruise ships have begun to arrive in town.
Kotor occupies a strategic location on the Adriatic coast. On top of the mountain is a fortress that once served as defense against foreign invaders. Today, it's a slightly strenuous (about 1350 steps, some rather shaky), but worthwhile climb.
Kotor Bay practicals
If you like to keep costs down (and who doesn't), prices in Kotor are much lower than in Dubrovnik. (Same goes for nearby Neum in Bosnia and Herzegovina and Trebinje in Republika Srpska).
Kotor has hotels, hostels and private rooms for hire in the old town.
Kotor is only 95 kilometres from Dubrovnik, less than two hours away (depending a little on the border-crossing).
The vigorous climb up the mountain is best undertaken in the morning (especially in summer).
Boats can take you to the islands or the lovely little hamlets along Kotor bay.
If you're from California, it may interest you to know Kotor is twinned with Santa Barbara.
The Natural and Culturo-Historical Region of Kotor is a UNESCO World Heritage site. So is Venetian Works of Defence between the 16th and 17th Centuries: Stato da Terra – Western Stato da Mar. Here are more UNESCO World Heritage sites around the world.